Common Signs of Air Duct Contamination
11/22/2015
Back To Blog
Dust and dirt particles are so tiny that they can get literally everywhere. You can easily spot them on the furniture and floor of your home. But what if they lurk in the ductwork of the HVAC system? There, they become extremely difficult to spot. Usually, these and other contaminants are discovered as part of regular HVAC maintenance. However, you can also recognize problems by watching out for a set of symptoms.
When Air Duct Cleaning Is Essential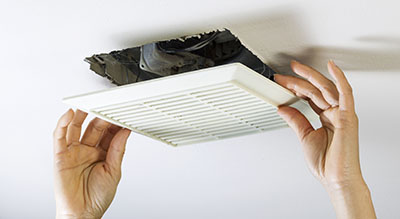 An unusually high amount of dust and pollen in the rooms of the house is a clear sign that there is a need for the ductwork to be cleaned. The reality is that letting a beam of light into the room is not an effective method for air quality testing. A more reliable technique is to watch out how quickly dust accumulates on hard surfaces such as the tops of cabinets and coffee tables. If you are forced to clean the surfaces more often than usual, then the issue must be with the ductwork of the HVAC system. The system simply pumps dust and pollen inside.
Strange and unpleasant smell coming from the openings of the HVAC system is certainly a cause for concern. If it is musty, it most probably comes from mold growth inside the ductwork. Mold grows where there is moisture and a warm surface. In ducts, it is typically due to poor insulation or leaks. The problem is resolved with the use of special mold removers. Its cause has to be eliminated as well. In most cases, air duct seal repair is an effective solution. If there is serious damage to the ductwork and a large number of leaks, however, replacement is the better option.
Less often the strange odor is sharp and acidic. This issue occurs when the ductwork has been infested by rodents. This is a very serious problem which must be dealt with right away. The ducts have to be repaired and cleaned. A full set of measures for stopping the infestation must be taken as well.
If you and/or members of your family display allergy symptoms such as sneezing, coughing, runny nose and blurred vision without apparent cause, this could be due to pollen or mold coming from the ventilation and air conditioning system. Both of these powerful allergens can make symptoms of respiratory conditions worse and longer-lasting. In such cases, you must take immediate measures for improving home indoor air quality. The list includes cleaning of the ductwork, the cleaning or replacement of air filters and more frequent vacuuming of carpeted floors.
Finally, you should keep in mind that a basic visual inspection may not always reveal the dirt accumulations and mold growth as they can be deep inside the ducts.